Your 3-in-1 Solution
EHR | Clearinghouse | Billing
A Trusted and Simple to Use Electronic Health Record Software"
A Software Built on Solid Values
Our mission is to create and continually improve a complete EHR software that helps behavioral health professionals improve the quality of care they provide in every way possible.
Learn More About Us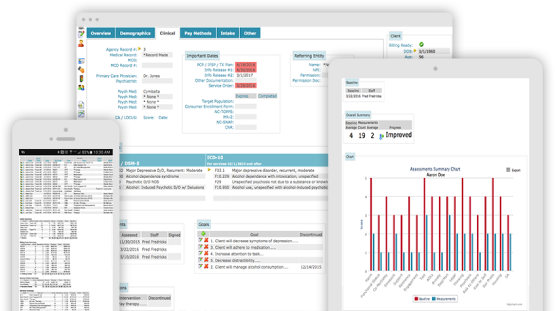 The Checkpoint EHR Difference
In more than 10 years of work specializing in the behavioral health industry, we have learned what makes the ideal software for your practice. Through tireless testing and outstanding client feedback, we offer your 3-in-1 solution: EHR, clearinghouse and billing, all in one piece of software.
Free Unlimited Users
For private practices and large agencies alike, we are the right fit for your organization. Checkpoint EHR will never charge for adding new users.
Clearinghouse Fees Included
Ready to take the task of finding a clearinghouse off your plate and eliminate fees for claims scrubbing and remittances? Let the experts at Checkpoint do it for you at no extra cost.
Hands-Free Billing
Claims are automatically processed and submitted with Checkpoint EHR, eliminating repetitive manual batching and giving you more time to serve your clients.
Pricing Built Around Your Practice
Our pricing structure makes us unique in this market. The cost of using Checkpoint EHR is simple and straightforward, covers clearinghouse fees and includes unlimited users, hands-free billing, client reminders and more. This structure automatically reduces your costs when you have those seasonal or occasional off-peak revenue months.
All Software Updates Included
Improvements to the software are always being developed and implemented. Our unlimited software support will make sure you continue to get the most out of your EHR platform.
Explore Checkpoint EHR Pricing
No Hidden Fees or Complicated Restrictions
Adding another location? Great.
Doubling the claims your practice submits? Well done.
When your business thrives, we come with you. Our pricing and features are designed to promote your business's growth, not hold it back.
Serving Those Who Serve Others
The extraordinary feedback we receive from our customers continually drives us. Improving client outcomes is what we all want, and when we at Checkpoint hear that our software accomplished just that, it makes our work mean that much more to us. Check it out for yourself.
Request a Software Demo
What Providers Say About Us
"You are a wonderful team. We have tried EHRs before with different companies and they were not able to deliver, but you gentlemen are diligent, faithful, responsive, and always there. It is greatly appreciated. The entire office staff loves working with Checkpoint. It has really prepared us for expansion. The assistance you give is wonderful."
— Tamika, Business Manager